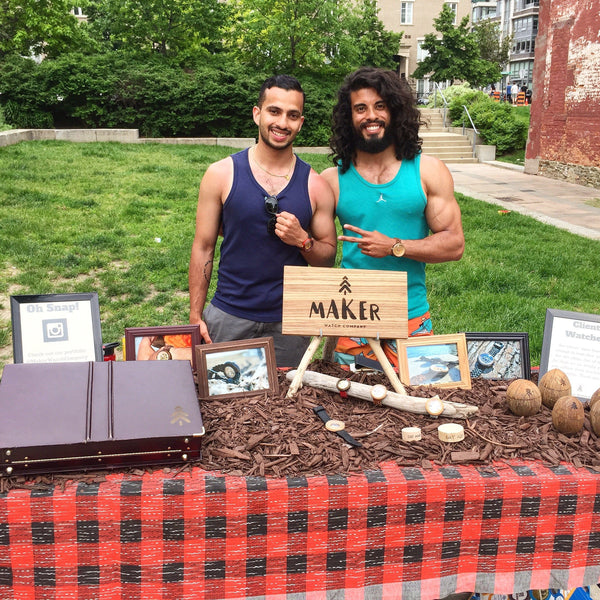 Established in 1994 - Maker Watch Co.®
Subscribe to this blog's RSS feed using https://www.makerwatchcompany.com/blogs/stories.atom.
FRIENDS SINCE 1994:
We've been childhood friends since the age of five. Our relationship quickly flourished while playing on the same T-ball team. We completed elementary school together and went separate ways for high school and university.

Despite being apart for the majority of our teen years and early 20's we made an effort to meet every quarter with our dear friend Brad to catch up over coffee and dinner.

Maker Watch Co.® is a small Canadian business backed by the strength and trust of over 25 years of friendship. This is arguably our most potent asset as a company. We know what makes one another tick (no pun intended) and how to handle new situations with low ego and authenticity.
HOW IT STARTED:
Circa 2014, Justin sketched out a wooden watch with a skeleton movement that he wanted to make one day as he never could find one in the market that got him excited. He loved watches and working with his hands. During the summer of 2016, while working construction, Justin decided to open up the sketchbook and start making his dream wooden watch.

He invested in an old lathe, some basic chisels, and started learning how to carve. On one of their meetups, Justin updated Nibin on the watch, and Nibin was obsessed with the process. A process of trial and error that took Justin almost 6 months to create build No. 1 - "The OG."

Nibin shared the first completed watch to his personal Instagram, and his high school teacher, Emidio Santroni, messaged and asked how he could buy one. Emidio was our first client, and Maker Watch Company Inc. was officially founded in May of 2017.
OUR LONG TERM VISION
We're here for a good time, not a long time. You can say that's from a Drake song, but it's true.

From day one, our vision has been simple and clear - Create remarkable products that people can get excited about.

We're on a journey to create a sustainable and healthy business that inspires people to develop. Our ultimate end goal is to create a combined watch and coffee shop in our home town of Port Credit. We want to create a warm and welcoming space that feels like home to everyone. A place where you can feel comfortable being yourself. We want you to connect, build, and maintain relationships with old and new friends over the best coffee while watching stories of custom watches being constructed in the background.

We can't wait to meet you in person one day in our physical space. Till then, we're happy to meet you virtually via e-mail, video chat, or phone call!

Thank you for your continued support in our craft, it means the world to us.
Your Friends,
Justin & Nibin