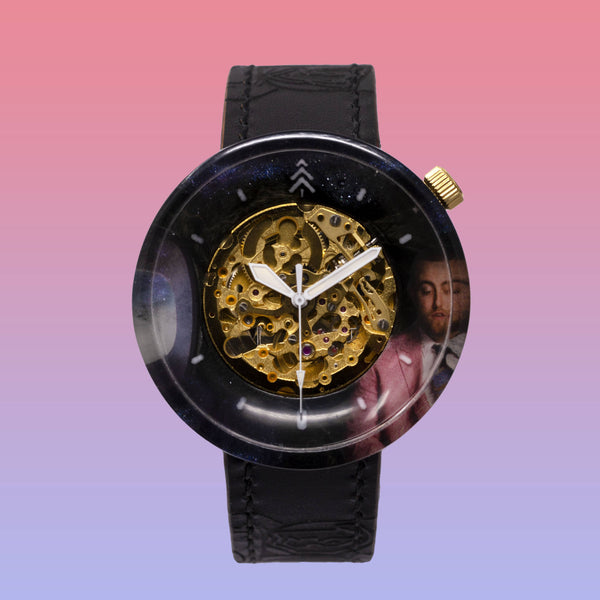 Memorial Gifts | Remember your loved one | Maker Watch Company
The Memory of a Lifetime: A Wearable Memorial
Building this business has been a lot of fun for us. We've had the opportunity to commission some incredible pieces that mean a lot to people and often times they resemble joy, happiness, and excitement. Since the COVID-19 pandemic began, the types of requests we started to receive began to change and we've had some conversations that pulled on our heart strings because of what people were asking us to commission for them. The pandemic has taken countless lives due to their struggles with mental health, financial pressures, illness, and unforeseen loss; and because of these losses, we've seen an increase on inquiries for memorial gifts, remembrance gifts, and bereavement gifts to commemorate the lives of a loved one who is no longer with us. As difficult (emotionally) as it is for us to create these wearable memorials, there's a number of reasons why they are the best gifts to give or receive during times of grief and mourning.
"My dad recently passed away from Stage 4 Cancer and he was everything to me. He was heavily influenced by watches and I wanted to make a custom watch that represents him."


It Signifies How Much You Love Them
The loss of a loved one is never easy and no matter how much time passes, the pain of not having them around will always remain. We've had the opportunity to add names into the faces our watches, quotes and patterns on our leather watch straps. We can even infuse ashes of a loved one in the resin we pour. A wearable memorial is a gift of remembrance that gives you a constant reminder of the person you hold so close to your heart; knowing that you will never forget them and that you will see them again. These memorials are so important to us at Maker Watch Company because of what they mean to those that will wear them. Sometimes, we receive messages from those close to a family that wants to gift them a beautiful memoir; and this leads to our next point.
"This watch would be in memory of my best friend who had killed himself during lockdown. I would be looking to incorporate his Name into the design."

It's A Gift For A Loved One
We've seen the goodness in people from all over the world and no matter the color of your skin or your cultural background, the love you have for those you care for is a universal language. In some cases, it can be a gift from a husband to their wife after the loss of a child or even a gift from your neighbor that shows they're thinking about the family. A remembrance gift is the most personalized gift that anyone could ever give as it fills a need for a person that they love. When you give a gift that means so much to another human being, you help them find peace, solace, and comfort during a time of immense hardship. With that hardship comes realization and acceptance, and then finally, closure.
The 2 names I would like engraved are "Alicia" and "Mike" because they are my 2 bestfriends who passed away.  

It Helps Bring Closure
A wearable memorial lets you look at your wrist, tell you the time, and reminds you of the beautiful moments you had with the person you cared for so much. As we've stated in previous posts, our custom timepieces often bring up conversations in social settings and a personalized memorial will likely do the same thing. These spontaneous conversations not only give someone the opportunity to discuss this hardship with other people, but it helps them get through such a difficult time in their life. From our experience, having conversations with those who contact us for one of these commissioned timepieces helps bring ease and calm to their lives, and we are absolutely honored to be trusted with such a significant moment.
"I want to brother name one side and his date of birth other side as he passed away three months ago so in his memory i need that watch."
 "My daughters name (OMITTED) and the day of birth and the day she passed 2005/10-28-2019 as well as the inscription (OMITTED) Warriors"
A memorial gift is something that means so much to those that have had to cope with the loss of a significant person in their lives. Honoring the life of a loved one that is no longer with us by commissioning a personalized remembrance gift is helpful in all the way's listed above, and we at Maker Watch Company will always be willing to help you turn a difficult and stressful moment into a piece of art that commemorates the love in your heart.
Don't hesitate to contact us to discuss the details of how we can help create a unique memorial gift that will have you smiling every time :) 
Love,
Justin & Nibin