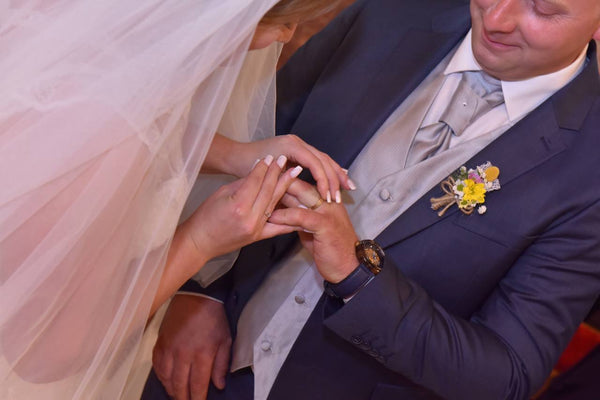 Custom Watch : The best gift a bride can give her groom on their wedding day
Here's Why Every Bride Should Gift Their Groom A Watch

Love is one of the most interesting social marvels because of how differently it can be defined. Depending on who or what we love that love feels different; it holds a different place in our hearts. Naturally, when we love someone that we want to spend the rest of our lives with our first inclination is to show that to them with gifts – a gesture that says "Hey, I was out today and was thinking about you, so I bought you this (insert gift here) because I know how much you like them." This will make anyone's heart jump because it feels amazing to receive something from a person you care about. On the other hand, if it happens too often the symbolism and importance of gift giving diminishes. That's why it's so important that on your big day ladies, the gift you give to your husband-to-be means something significant.

When you're choosing a watch or timepiece to get for your man, there are a few things to consider that ensures that it's the perfect gift for their special day. A combination of size, color, and style matter and every man is different when it comes to their wrist estate. Lucky for you, we've put together this simple guide to make buying the man of your dreams a custom timepiece that he'll never forget.

It Symbolizes Your Love

He's the man that you've been waiting for your entire life and on the day of your wedding, the nicest gesture you can show him is truly how much he means to you. At Maker Watch Company, a custom watch is truly unique and no two watches are the same. With options ranging from the size and shape of this custom timepiece to the color and personalization, the watch you'll put on his wrist symbolizes how you feel about him and how much your time together matters. Let's face it, the world is fast-paced and we don't get an opportunity to always spend our time the way we want to. However, every time he'll check the time and looks at a custom watch that you designed for him, he'll be reminded just how important your time together is.

It's Useful

Unlike many other gifts, a custom watch is something he can wear all the time. Being custom in nature also gives him even more confidence when he's in social situations. The number of times that we've been told by our clients that their custom timepiece has kicked off some remarkable conversations is something that we never get tired of; and the same thing will likely happen for you man. It's such an important facet of life to be able to connect with other people and a custom timepiece for the groom will most certainly be useful as he pursues his dreams to create an extraordinary life with you. Not to mention, it also tells the time.

It's A Style Boost

This modern era has transformed how men feel about style. More and more men are accessorizing their outfits to fulfill a certain "look" that they're going for and a custom watch is no different. The permutations and options available to you, the designer of a beautiful custom timepiece, are nearly endless. From carbon-fiber to shredded U.S. dollar bills and wood burl, we can make the vision you have in your head a stylish piece that your man can wear everyday and to every function, all while complementing his look.

It's A Heirloom

As ironic as it is, time will pass as you both grow in your marriage. If you decide to raise a family together, this custom watch that you gifted to him years ago becomes more and more personal to him. He'll wear it on his wrist and will think about the day you both said "I do" as he chases the kids out in the backyard. He'll wonder where the time went and how his hair turned grey (or how he lost it all together), he will also be thinking about his own legacy. We have a variety of options on how to make your watch extra special with custom watch options like engraving and embedding, laser etching leather straps, and placing personal items that mean something to both of you right into the resin we pour. When the day arrives that he wants to pass this watch down, the vision you had to show your husband how much he means to you will ripple through generations as a true testament to your love for him.

All the reasons listed above give you an idea of why a custom watch is such an important gift for your man on the day you exchange your wedding vows. The symbolism of marriage is a true testament to the power of human righteousness and the good every person has within themselves to commit to another. At Maker Watch Company, we've always believed that we're not in the business of selling watches, but rather in the business of building relationships; and your special day is no different. We want that day to be the best day of your lives and a moment that you will cherish forever. A custom timepiece is the perfect gift for him and a truly memorable way to make sure that your time together is as important as the day you said "I do."

Get in touch with us here to start your journey with us. We're sure you won't regret it.

Love,
Justin & Nibin