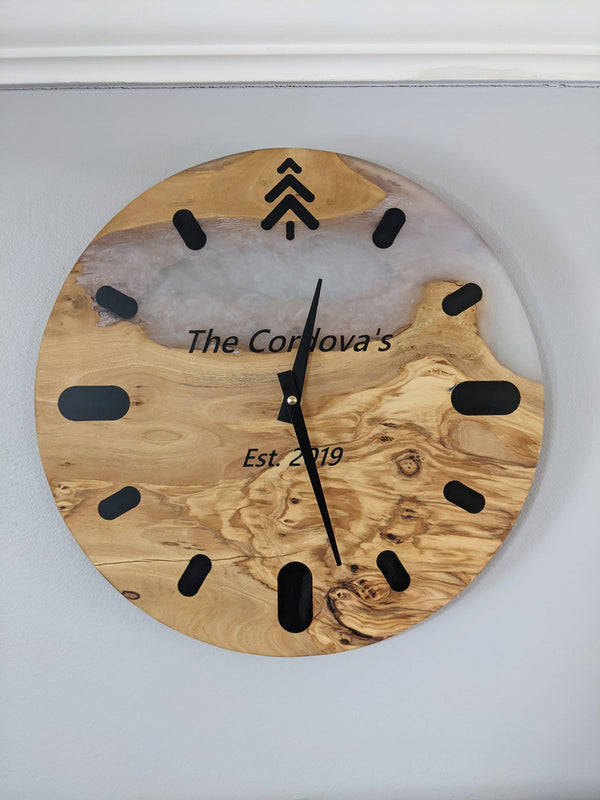 3 Reasons Why A Wall Clock Should Be A Big Part Of Your Home Décor
Being stuck at home for the last year has been super difficult for so many of us. What adds to the suffering of being cooped up is the lack of décor that we never realized was a problem. Busy lives mean we spend less time at home when things are considered "normal" but with the world changing quickly, the desire to spruce up our space is becoming more of a priority. In that mix of family photos, plants, and other decorations a wall clock is a must-have for a sophisticated look no matter what room its in; and here's why.

It's Fashionable
Without a shadow of a doubt, having a Wood Clock hanging on the wall is a great look. Whether the style and furnishings of your home are contemporary, transitional, or traditional, wood is a common element that fits in anywhere. Combine that wood with epoxy resin and you have a piece that speaks volumes and is sure to spark a conversation when you're entertaining. We offer Walnut, Olive, and Roasted Maple wood products that are ready and primed to fit into your home.

It Creates Balance In Your Home
Whether you have a ton of pictures on the wall or a combination of other decorations, a wall clock can fit into any part of your decorative plans. If you're going to place the wall clock on its own, make sure that its large enough to be a focal point that catches attention. If you decide to merge the wood clock into other facets of your décor, make sure that your color choices complement the colors you use when personalizing your very own Maker clock; which leads into our final reason why you really need a wall clock in your home.
They're Easy To Personalize
With different wood species and pigment colors to choose from, a Maker custom wood and epoxy clock can easily be made unique to you and your family. Add your family name, choose custom hour markers, and choose from 8 different colors that we offer. With 2 different sizes to choose from, the opportunity to make a design your own wall clock just for your space is just a few clicks away; and they tell the time well too.

It's so important to make sure the space you have in your home is welcoming, nurturing, and calming. Beautiful wall décor can help spruce up that project you've been putting off or that room you want to renovate and we can make sure that it becomes a reality for you. We believe that a wall clock is an incredible reminder that you're doing your best to get through the day and that no matter what happens, you always have time.
Get a free quote on a custom wall clock: GET QUOTE
Love,
Justin & Nibin