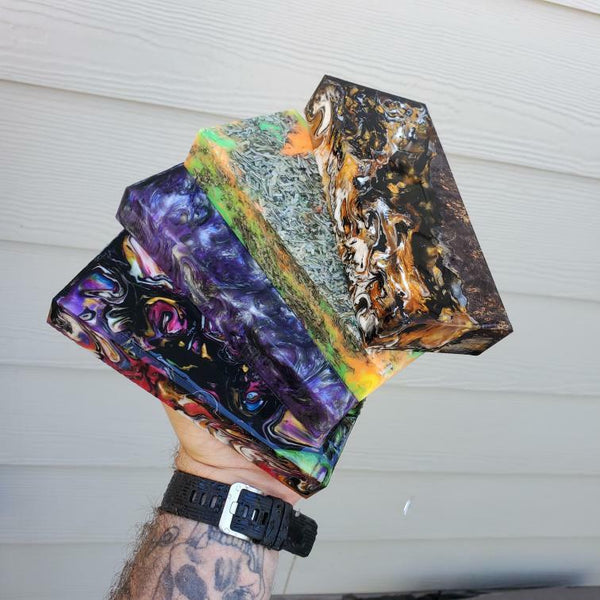 Top 5 Makers in America: Wood Epoxy Resin Artists
Resin casting is an art form in which acrylic is mixed with mica pigments, dyes, flakes, wood, and other unique materials. The final product is cured under pressure to create unique raw material for makers of various goods.
We're going to highlight artists that make top-quality hybrid wood and resin material blanks. Their work is commonly used in pens, knife scales, shift knobs, bottle openers, rings, jewelry, golf putters, and of course, our hybrid wood and resin case watches.
This list is based on our own experience with the various material makers in the community. 
Pourcasso AKA DerangedDonkey - Chris Jemmings
The OG Godfather in the game. Pourcasso specializes in custom resin infused with burl displays, material blocks, pen blanks, and scales. Products can be displayed, used for DIY making and creating, or for pure enjoyment. Each product is handmade and one of a kind.
 We've had the pleasure of working with Chris over the last 3 years. His execution of our client's vision is nothing short of brilliant. We call him the resin casting wizard as he's able to pull off some insane concepts. Chris has put years into his craft, and it shows in his customer base and product output.
We highly recommend Pourcasso for all your casting needs.
Wine Country Woodworks - Casey Martin
Casey is a savvy young professional specializing in grapevine pen blanks and has the talent to execute all things resin with stabilized wood. He's an open book and shares a lot of his knowledge on his YouTube page with over 22K subs! 
We've had countless chats with Casey when we started our in-house casting. If you're looking to DIY resin cast, Casey's Youtube and "The Resin Cast" podcast is the best place to start.
Check out this watch we made with one of Casey's hybrid blanks:
McKenzie Penworks - Tim McKenzie 
Tim is a high volume pen blank maker and the creator of DiamondCast®, which we've used in a few watches with excellent feedback.
DiamondCast® blanks are made using Alumilite and their patent-pending combination of diamond and pigments. Each blank comes with a certificate of authenticity.
Derry Woodworking - Derry O'Bryne
Derry gets some brownie points being the only Canadian on our list :) 
He sources some of the coolest burls and always hits home that "wood is good." We've worked with Derry on a few customs for clients who have specifically requested his material. He creates masterpieces with a lot of intricate detail and has developed a unique style. The burl itself sparkles with a metallic finish, and he beautifully executes fast-moving motion wisps
NV Woodworks - Zac Higgins 
 We've never worked directly on a project with Zac. Still, we've definitely soaked up some of his knowledge via his YouTube Channel, and Podcast co-hosted with Casey Martin. Have a quick browse, and you'll see he's good at what he does and shares a lot of his process on live streams and on YouTube.
Want to learn how to resin cast?
The best place to start is The Resin Cast Podcast hosted by Casey Martin and Zac Higgins and their respective YouTube channels.
Also, check out Alumilite. They are building a wealth of knowledge and content in the space of casting at https://www.alumilite.com/