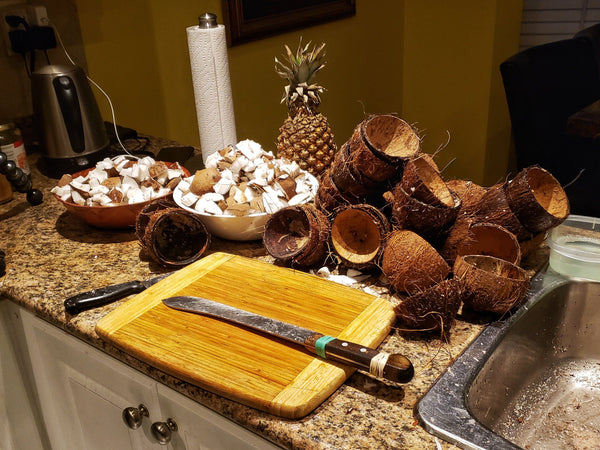 How to cut a coconut easily
Want to know how to cut a coconut easily? We've been professionally cutting coconuts for 3 years and have learned a few things to make the process efficient! Keep in mind our goal is to preserve the coconut shell as we use it to create cases for our watches.
STEP 1: DRAIN AND STRAIN THE WATER
One of the three circles on the bottom of the coconut will be soft enough to puncture. Use a small star-head screwdriver and make a hole. Then shake out the coconut into a Tupper ware. The water must be emptied before moving to step 2. You can then strain the liquid, chill, and serve it!
STEP 2: USE A BANDSAW TO SLICE THE COCONUT
It's the most efficient way to get a clean cut. We generally source coconuts with a maximum of 3.25" diameter to ensure it can get through our bandsaw. In the future, we plan to upgrade the bandsaw, but for now, this is our limitation. Any coconuts larger, we use a combination of a hand saw to create a leading cut and then finish it off with a reciprocating saw.
STEP 3: CHILL THE COCONUTS
Chill the coconuts in a fridge for a couple of hours. Do not freeze it as the meat will become rock solid. We find a slightly cooled coconut is the easiest to work with when extracting the meat.
STEP 4: CARVE OUT THE MEAT USING A ROUNDED KNIFE
Work slowly and dispose of any rotten meat.
STEP 5: REMOVE A LAYER OF THE INTERNAL SHELL
Once the meat is extracted, use the knife to remove a layer of the internal shell to get rid of any excess guts and rinse.
STEP 6: AIR DRY
Let the coconuts air dry for 12 hours.
STEP 7: SANITIZE
Wipe down the inside of the shell with vinegar for a quick sanitization