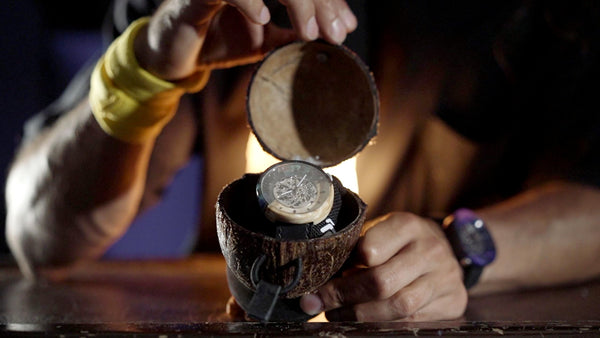 Livin6ix | Two friends, A Toronto startup and custom watch experiences
You've heard of Rolex and Tag Hauer, maybe own a Fitbit or Apple Watch. What everyone is looking for is uniqueness, some way to express their individuality. Well, your search for a unique timepiece has just ended with the Maker Watch Company's handcrafted, ultra-unique, wood and resin watches. 
Justin 
Alvares
 and 
Ni
bin
 Thomas are the cofounders of 
Maker Watch 
Co. and personally handcraft 
w
ood
and resin watches for their clients from a small home studio in the Port Credit Area of
Mississauga.
They
have seen 
significant 
growth via 
social media
 over
the last 6 months mostly notably for their signature hybrid case watch - 
A case that is part
wood and part resin. And 
the
 end result
 is 
nothing short of stunning.
We met with Justin and Nibin 
over coffee 
in Roncesvalles to gain 
some 
insight on their story
and their tradecraft.
What inspired 
you to start Maker Watch Co.
?
​
Justin: Ultimately it was the belief in an idea that created our business and a post on
Instagram
. I (
Alvares
) set out to make a watch out of wood for myself with the intent to
make it just for personal use. Nibin loved the product helped close my first sale and
encouraged me to keep making more and long story short here we are today.
Building a wood watch
 from scratch
 doesn't sound easy, what sorts of challenges
Justin: The biggest initial hurdle came from building a second watch. Knowing that watch
isn't just for me but for a customer and someone who will be excited about it puts a massive
amount of stress on me to ensure that the product is as perfect as I can make it in that
moment. Each watch we produce gets of better and better as time/building/experience
How do you guys split responsibility?
Justin: I handle the product and Nibin handles the business aspects. We are in tune with
what each other are doing but have trust and confidence in each other in our respective
areas. Our ultimate responsibility is to our clients and 
i'm
 lucky to share that passi
on with
some like Nibin who get
s people and builds strong relationships.
How do you manage to stay friends and healthy business partners?
Nibin: Everyone
 is quick to state 
that you can't do business with friends
 and family
 but I
think that's s
imply not true. I've started,
 failed
 and continue to operate
 businesses over the
years and each and every single one was with friends. I think business partners can become
friends and vice versa. It's about making the time to be present under both hats. It's not
easy when every conversation ultimately turns into a business conversation and it's so easy
to lose the friendship aspect. We manage to still get out for coffees, go to mutual friend
'
s
events and just have good conversation about our personal lives.
What would you say is the single most influential factor in your success to date?
​
Justin: Nibin. 
Haha
 he'll like that ;) On top of that, again just communication, with customers
and each other. Businesses are about people and I'm lucky to be partnered with a person
How is social media leveraged in your business?
Nibin: It's critical. Our first sale was generated from a personal Instagram post. Beyond our
website we use Instagram, Facebook and Google. There is more we could use but given
we're 
only 
two 
we focus on
 a few platforms that have high impact
.
Instagram has been
especially 
instrumental 
to
 our growth
 as it's been the catalyst for 80%
of our sales
. We started slow in 2017 and gained a following of 416 by end of year (no pun it
was
 legit
 416
!
). After taking advice
 from a local influencer we've 5
X our following since
January 2018. It's
 been 
a lot of work but the key is good content and consistency of
engagement. Give more to the community and you'll receive what you're worth. We don't
use bots or tactics 
–
only 
genuine engagement. Our initial goal for 2018 was to hit 1K on
Instagram but since we've doubled that we've upped our target to 4K.
When you check the ego at the door you 
realize
 it's
 the quality of the following
 that
 means
more than the quantity. We'
ve been able to close sales
 to clients internationally 
with a
relatively small following. 
Client satisfaction
, product innovation
,
 and our personal level of
fun is the pulse check we use to ensure we're moving forward in the right direction, not the
follower count. It's easy to get lost in that at times but 
we're both determined to be known
for our client experience over everything.
What advice would you give to any future entrepreneur?
​
Justin: Just start. Probably simple and the most common piece of advice but 
it's
 true. The
idea for our product was sketched out 2 years prior to actually making an attempt at
conceiving it. In hindsight that drawing was the start.