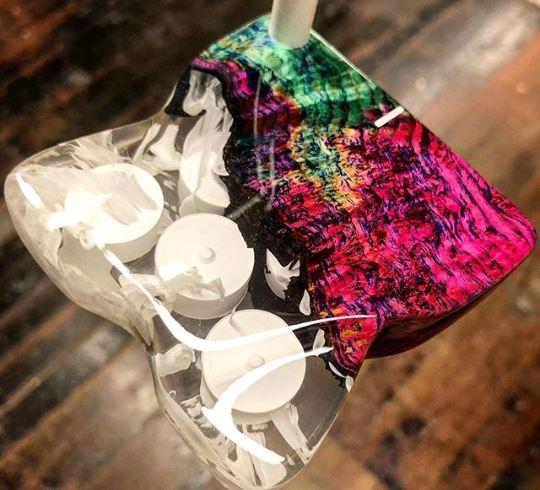 Best Gift for Golf Lovers - Custom Putter and Wristwatch
Father's Day, Mother's Day, birthdays, and retirements are milestones worth celebrating!
If you're searching for a one of a kind gift for someone special in your life who is an avid golf and wristwatch enthusiast, we have the PERFECT solution for you.
Consider a custom golf putter handmade by The Bradley Putters Company paired with a matching wristwatch handmade by Maker Watch Co. 
Of all the makers in the market that create functional art from wood and resin, we (Maker Watch Co.) share the most synergies with The Bradley Putters Company. Both of our businesses are run by a small team of two and at the core exist to create functional art that tells a story for our clients. 
The inspiration for this combined gift was pioneered by Casey Martin, owner of Wine Country Woodworks. He created his own stabilized wood and resin material and sent a part to Bradley Putters and another to us. The result was a stunning matching custom putter and wristwatch.
Watch Casey's YouTube review on both the putter and watch to hear first hand his thoughts on both products:
If you are interested in getting a custom putter and matching watch made, you can get in touch with Bradley Putters, Casey Martin or us to start the process. 
About Bradley Putters
Bradley Putters aren't just gorgeous. They have consistently replaced high-end putters in golfers' bags, and are the day-to-day gamers of several putter collectors.  
Founded in 2016 by Brad Converse and based out of Grand Pass Oregon, this shop crafts artistic wood and acrylic putters that are highly functional. Bradley Putters can encapsulate a variety of physical sentimental objects right into the putter so that every time you step onto the green you can be reminded of that special moment in your life.
Each Bradley Putters is one of a kind and tells a story.
Learn more about The Bradley Putters Company Story
About Wine Country Woodworks
Casey Martin is the owner and sole employee of Wine Country Woodworks based out of the Sonoma County of California. He creates hybrid wood and resin material casts for woodworkers - his work is very popular among pen turners. Casey has built a loyal following on YouTube with over 20K subscribers and is making a strong brand as a subject matter expert in wood stabilization and resin casting.
Get in touch with Casey at caseym@winecountrywoodworks.com if you want him to create the material for your custom putter and watch combo. 
Learn more about Wine Country Woodworks
About Us - Maker Watch Co.
Since 2017, we have been infusing unique materials with stabilized wood and resin to make one of a kind watch cases from scratch. Each watch compliments our client's personality and tells their story. 
Learn More about our story